Product Development and Optimisation for DFM of the Cotter Crate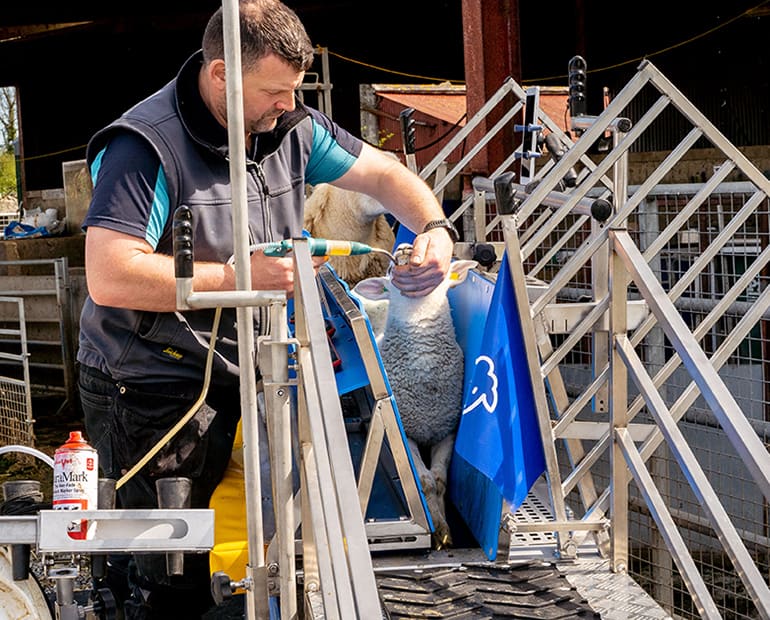 Award-winning Cotter Crate and SmartWorm app
---
Cotter Agritech has developed the award-winning Cotter Crate and SmartWorm app, an innovative hardware and software solution to help sheep farmers reduce handling time and labour costs, and tackle worm resistance via reducing wormer use by approximately 40%, and by identifying worm resilient replacements. The Cotter Crate is a sheep handling crate that makes carrying out stock management tasks, for both lambs and adult sheep, quick, easy and safe, including dosing, vaccinating, tagging, dagging, weighing, mouthing, body condition scoring, and 3-way drafting.
Developed by sheep farming brothers Jack and Nick Cotter, the Cotter Crate was created having recognised the industry's need for a handling system that focuses on making lamb handling easier, and also caters to adult sheep. The result is a simple to use system, where the animal is comfortably held under its own weight at operator height, without any pressure being applied, resulting in a calm handling experience for both handler and livestock and reducing animal handling time by up to 50%.
Engineering technical assistance
---
Innovation Voucher 1: Technical assistance from an engineering point of view to achieve cost reduction ahead of launch – Sought assistance from PEM to study the crate in it's current state, and identify and design changes that should be made to the crate's design to improve/simplify/achieve cost reduction – This work key to achieve an affordable, robust, highly mobile product with a lifespan of 10+ years on-farm, therefore improving our value proposition
Innovation Voucher 2: Additional technical assistance from PEM to reach a go to market prototype of our sheep handling crate. Under the previous innovation voucher, we focused on the 2 ramps in our product, and achieved 30% cost reduction on those 2 parts of our 3 part product. No work was completed on the main crate – Sought assistance to achieve a similar level of cost reduction on our main crate, which is the other element of our 3-piece product. PEM will evaluate our current design and suggest and implement suitable measures to reduce manufacturing cost – This essential as product currently too expensive to make.
The structures presented to PEM were complicated, heavy, and expensive to manufacture. PEM redesigned the 2 ramps to be lighter, have fewer parts and be more manufacturable. The parts also have more consistency regarding material and dimensions which has reduced manufacturing costs.
Specific offramp design improvements:
Significantly improved drafting mechanism (lighter, simpler, reduced cost, fewer parts, less force required to operate)
Improved gate structure (better rigidity, stronger, more straight forward assembly,)
Various other modifications to achieve overall goal of being lighter, simpler to manufacture, and at a reduced cost with less parts involved
Specific Onramp design improvements:
Implementation of tabbing and slotting technique to make assembly far more efficient
Significant simplification of floor design
Complete overall of anti-backing design from scratch, significantly reducing manufacturing costs and weight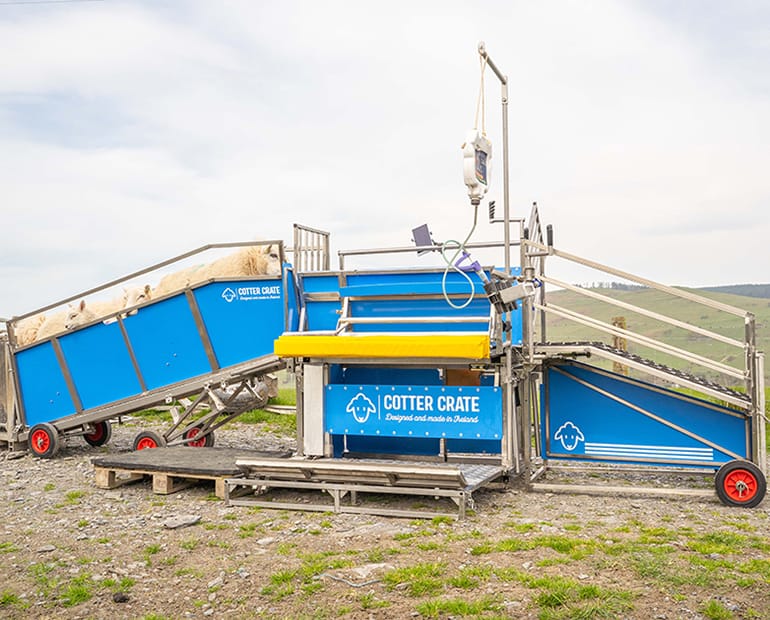 "I believe that if you're the smartest person in the room, you're in the wrong room. I wanted to find the room to help address our engineering challenges, and that room was PEM Technology Gateway. Through access to their expertise in design for manufacturing, we have been enabled to achieve our goal of getting this launched. Therefore, PEM have had a fundamental impact on the progress of our startup. We would not be where we are today without them. The team and I are hugely grateful to Russell, Cliodhna, Mandana and all at PEM Technology Gateway for lending their expertise, and to Enterprise Ireland for their support and belief in what we do. I look forward to continuing to work with PEM on solving more new challenges within our business. I would encourage any start-up or SME with an engineering-based proposition to engage with them."

Nick Cotter
MD, Cotter Agritech Ltd
The Cotter Agritech Ltd & PEM Technology Gateway partnership
---
Headline improvements delivered by gateway:
22% weight reduction in onramp
23% weight reduction in offramp
30% reduction in manufacturing cost of 2 ramps
Other criteria achieved: more manufacturable, easier to operate, making the parts more consistent, more robust, and reliable.
PEM through the 2 innovation vouchers have helped us achieve an affordable, robust, highly mobile product with a lifespan of 10+ years on-farm, therefore significantly improving our value proposition and enabling us to achieve a launch of the product in Ireland and the UK, which was held at the Lamma Agri Show in Birmingham in May 2022. Since launch we have completed 120k in pre-sales to date, and currently closing more deals with clients including the Royal Veterinary College. Other achievements have included presenting the innovation at the Sheep Veterinary Society Conference, coverage with the Farmers Journal & Farmer Guardian, and winning a Royal Highland Show Technical Innovation Award for the crate. Nick was also selected to represent Ireland with Cotter Agritech for the 2022 Global Student Entrepreneur Awards. Out of over 1,000 participants worldwide, Nick reached the Top 60, then Top 18 and finally made it to the grand final of 6 participants, being the only representative from Europe. Nick went on to become Global Champion with the idea, winning $40,000 for Cotter Agritech.